The following are photos of the Sanctuary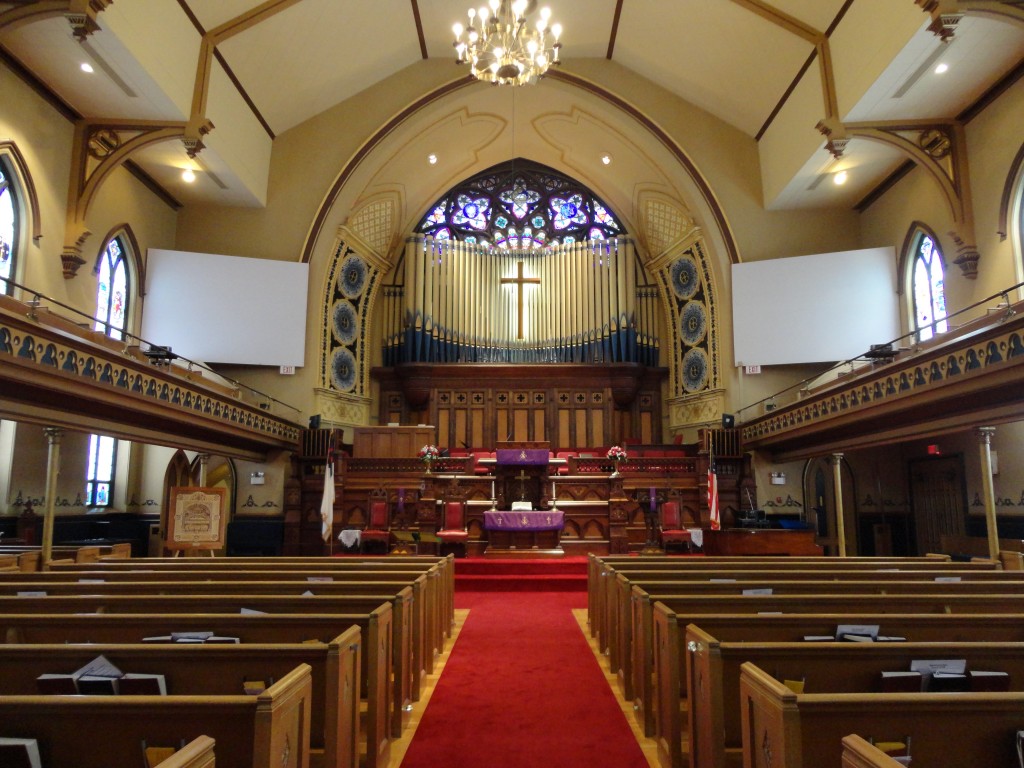 View of the Front of the Sanctuary
The Cross on the Altar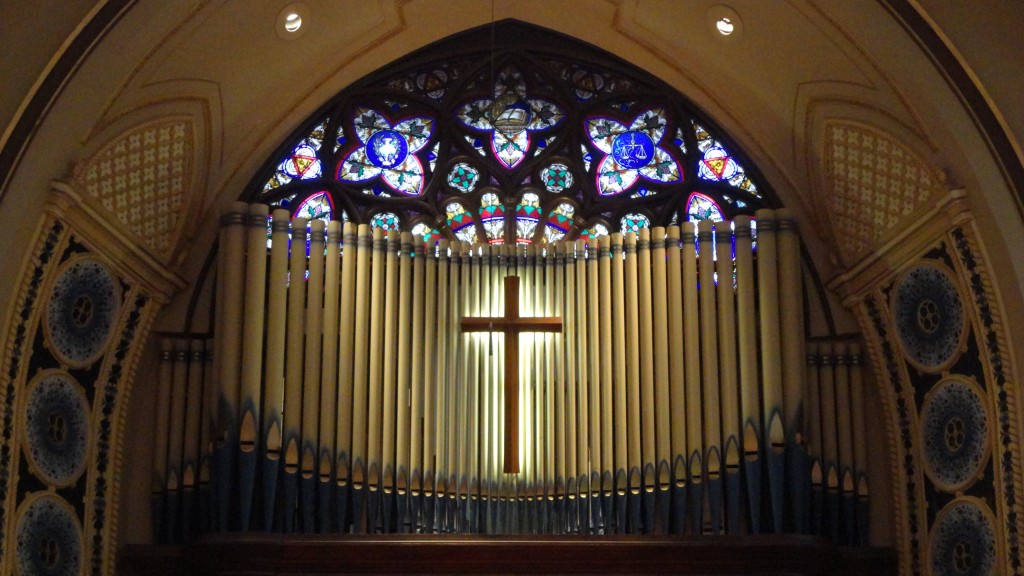 View of the Organ Pipes, Upper Stained Glass Window and Cross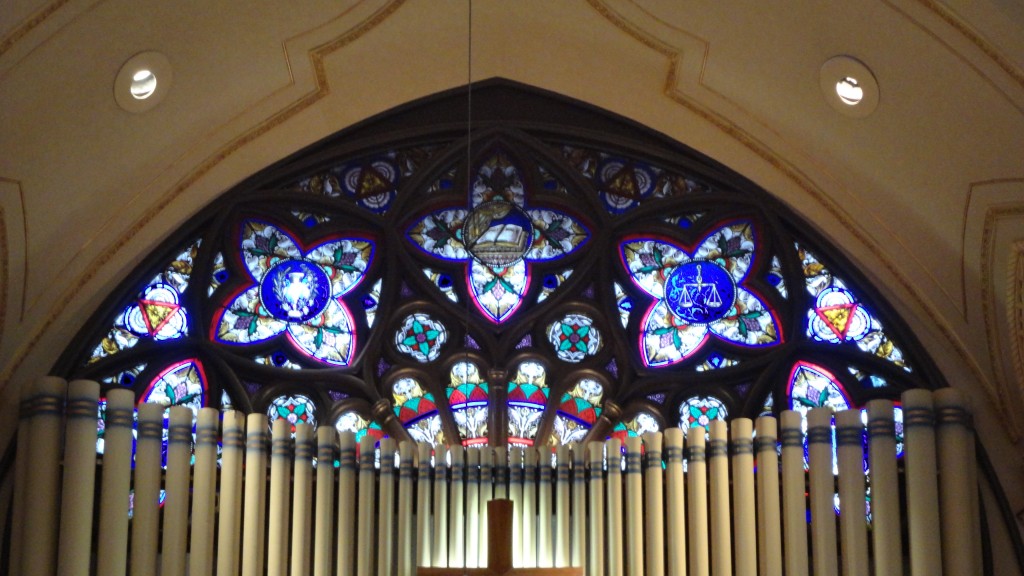 Upper Stained Glass Window above the Organ Pipes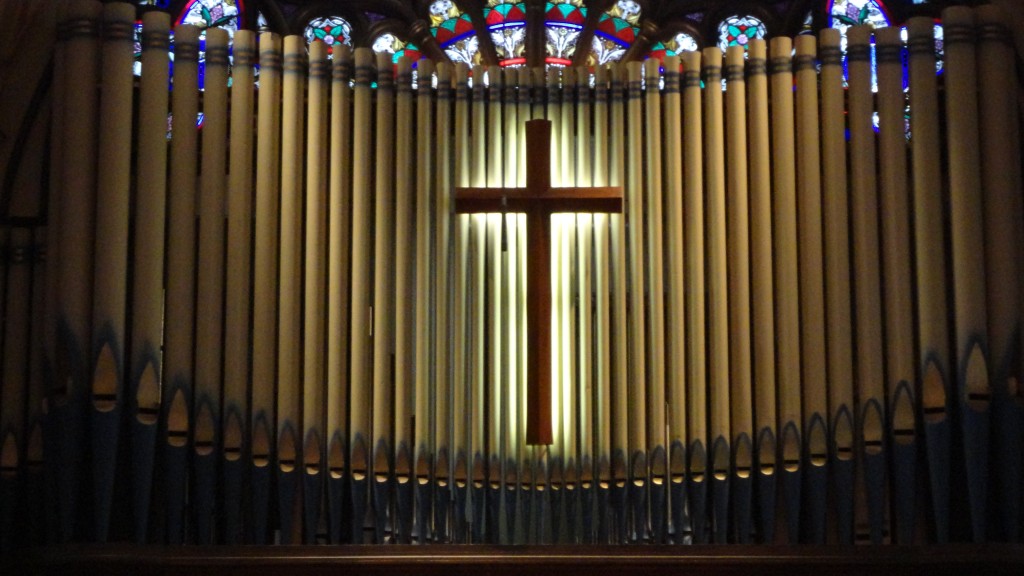 Organ Pipes and Cross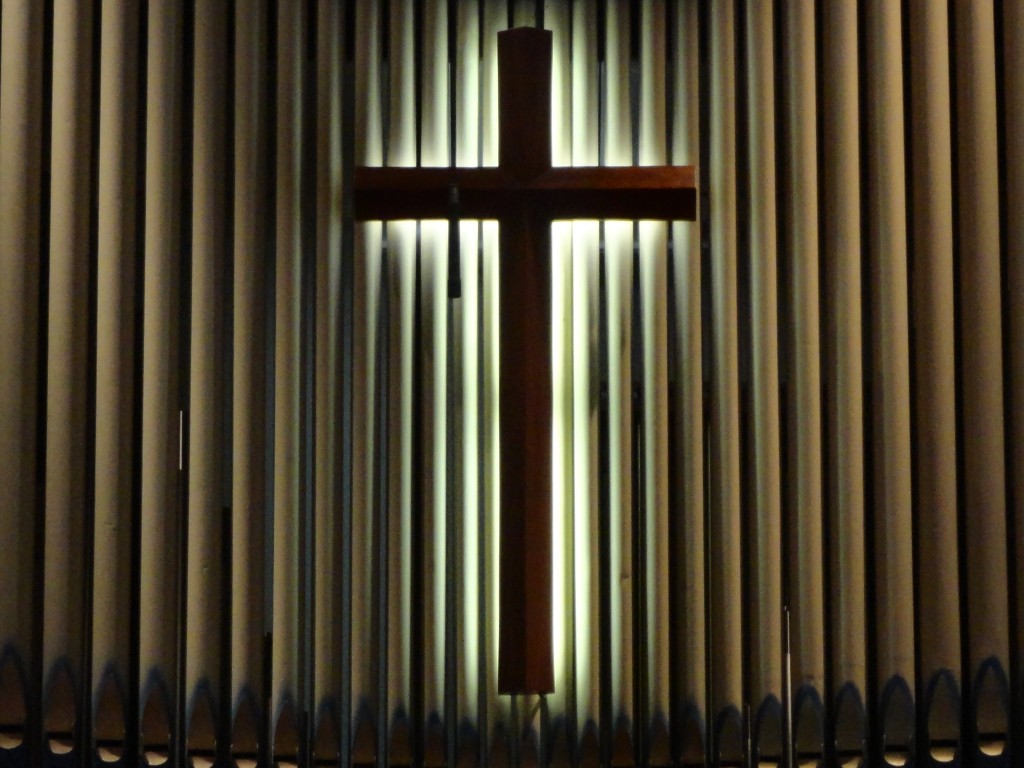 Cross made in 1964 of Walnut by Loren and Don Abbath, Lighting by Jack Simon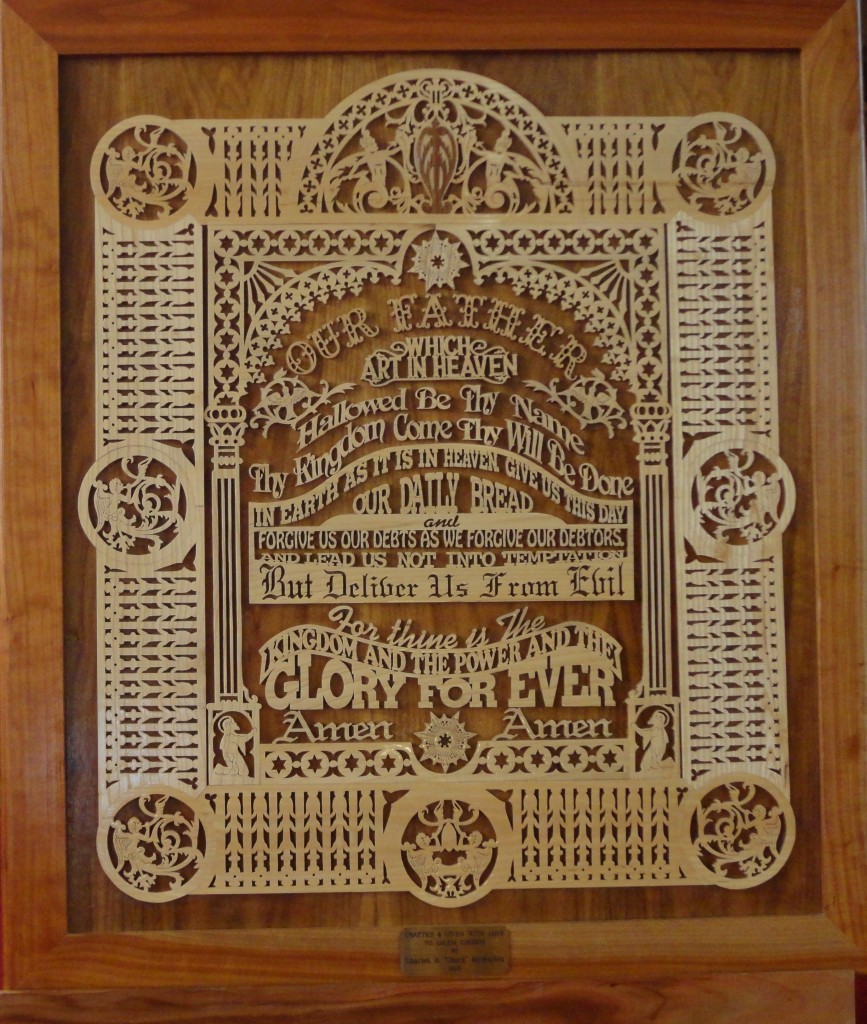 Crafted and Given with Love
to Salem Evangelical United Church of Christ
by
Charles "Chuck" McMullen
——————————————
The next 14 Photos are of the Stained Glass Windows in the North and South Walls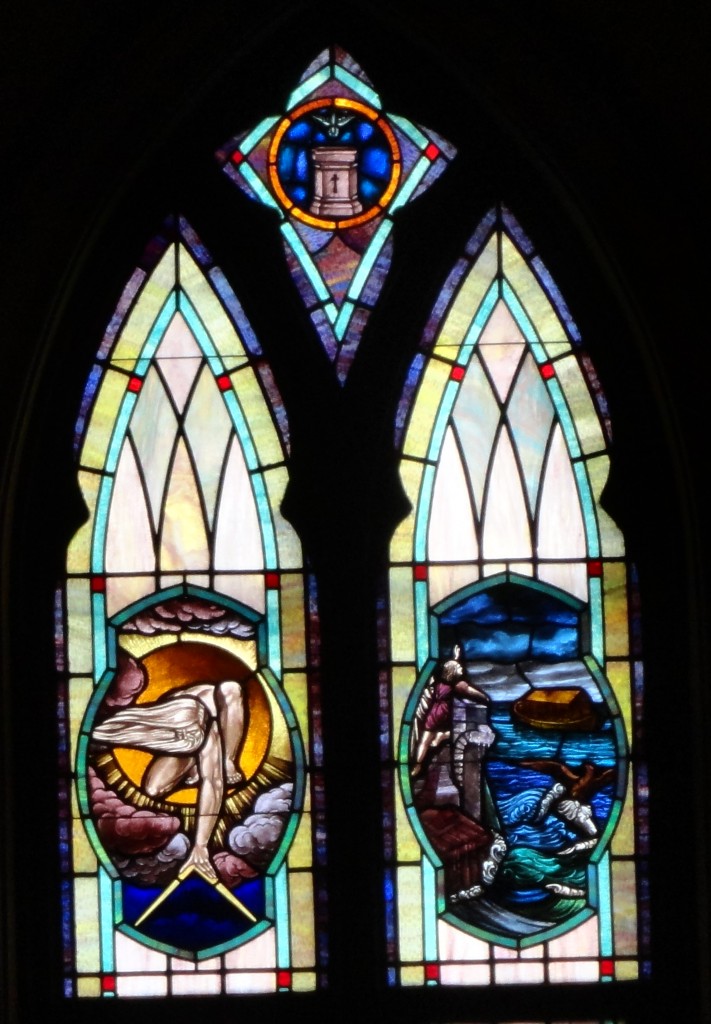 Top Center Window – Through Holy Baptism
Left Window – The Creation of Light
Genesis 1:3 "And God said, Let there be light and there was light."
1 John 1:5 "God is light and in Him is no darkness at all."
Right Window – Noah's Ark
Genesis 6 & 7 "And God said unto Noah, The end of all flesh is come before me for the earth is filled with evil.  Make thee an ark of Gopher wood and come thou and thy house into the ark; for thee have I seen righteous before me."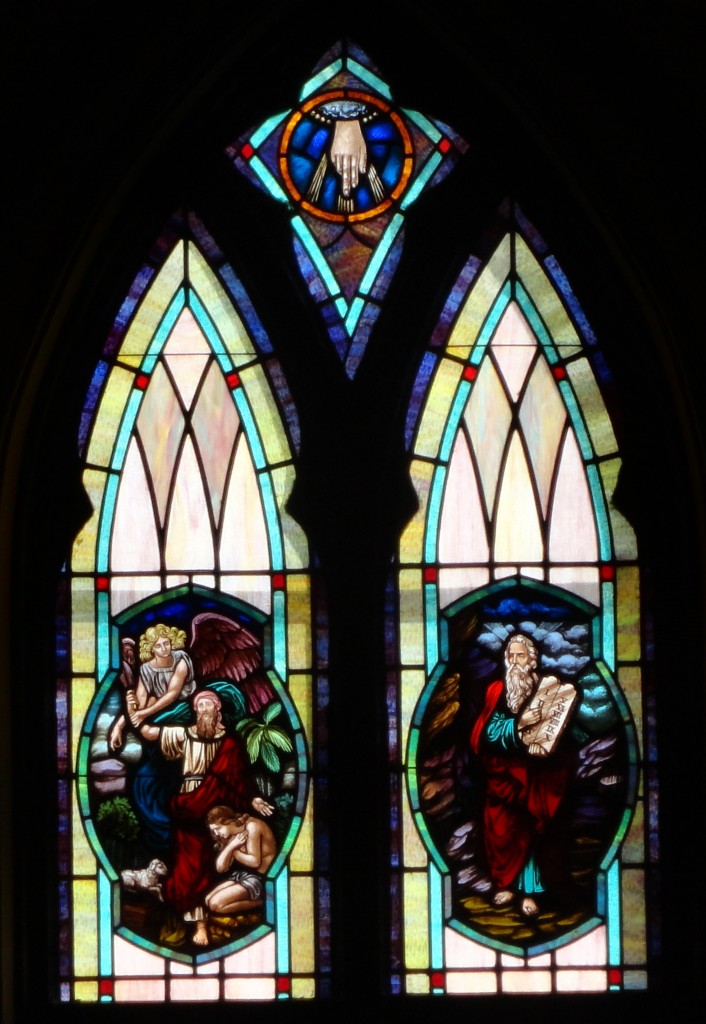 Top Center Window – In the Name of the Father
Left Window – Abraham and Isacc
Hebrew 11:17 "By faith Abraham when he was tried offered up Isacc."
Hebrew 11:6 "Without faith it is impossible to be well pleasing unto God: for he that cometh to God must believe that he is."
Right Window – The Ten Commandments
Exodus 20:1-17
1. Thou shalt have no other gods before me.
2. Thou shalt not make unto thee any graven image
3. Thou shalt not take the name of the Lord thy God in vain
4. Remember the sabbath day, to keep it holy.
5. Honor thy father and thy mother
6. Thou shalt not kill.
7. Thou shalt not commit adultery.
8. Thou shalt not steal.
9. Thou shalt not bear false witness against thy neighbor.
10. Thou shalt not covet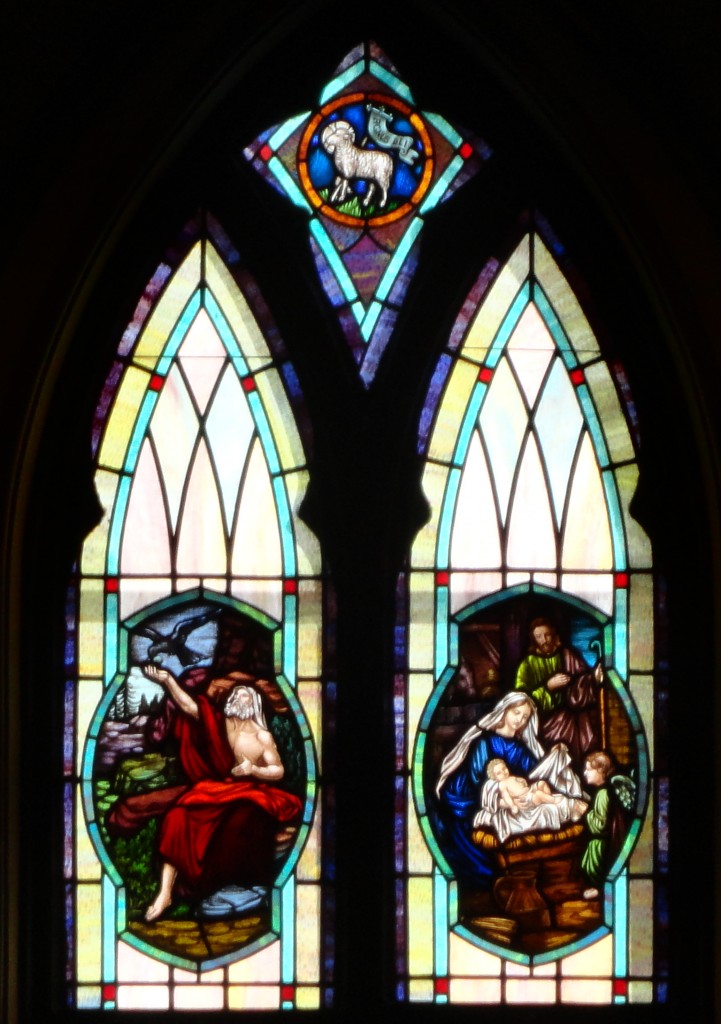 Top Center Window – And The Son
Left Window – Elijah and Ravens
1 Kings 17:5 "So Elijah did according to the word of the Lord and dwelt by the brook Cherith and the Ravens brought him bread and flesh and he drank by the brook."
"The coming of Jesus was foretold by all prophets, but most clearly in Isaiah 9:6 and 5:4-5 and in Micah 5:2."
Right Window – The Birth of Jesus
John 1:14 "And the Word was made flesh and dwelt among us and we behold his glory, the glory as of the only begotten from the Father full of grace and truth."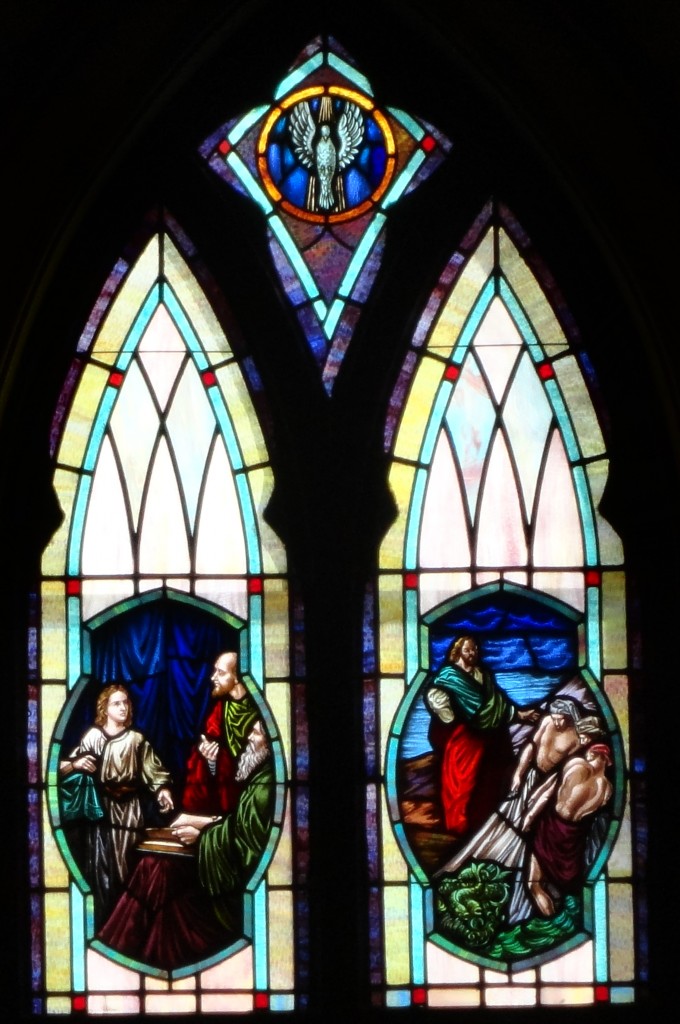 Top Center Window – And The Holy Spirit
Left Window – Jesus In The Temple
Luke 2:42-47 "And when he was 12 years old they went up to Jerusalem and after three days they found him in the temple"
Right Window – Jesus Calls His Disciples
Mathew 4:19 "And he said, Follow me and I will make you fishers of men. And they left their nets and followed him. " Peter and Andrew were brothers. James and John were brothers. All four were fishermaen before they became disciples of Jesus.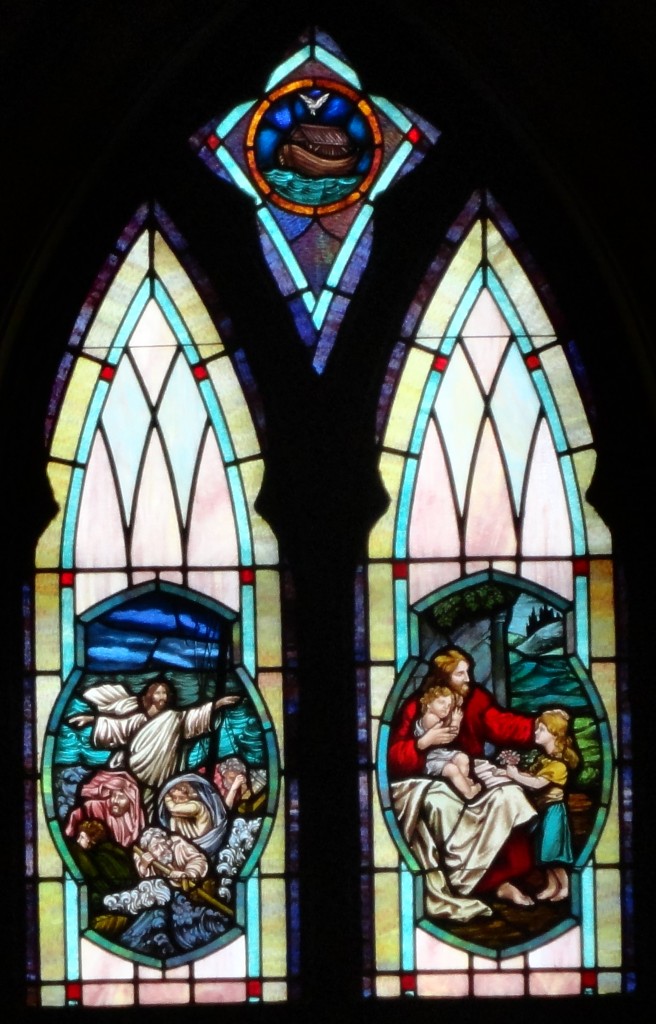 Top Center Window – One is Initiated into Membership with the Christian Church
Left Window – Stilling The Tempest
Mathew 8:26 "Then Jesus arose and rebuked the winds and the sea; and there was a great calm."
Right Window – Jesus Blesses The Children
Matthew 10:14 "And Jesus said unto them: Let the little children come unto Me and forbid them not, for of such is the kingdom of heaven."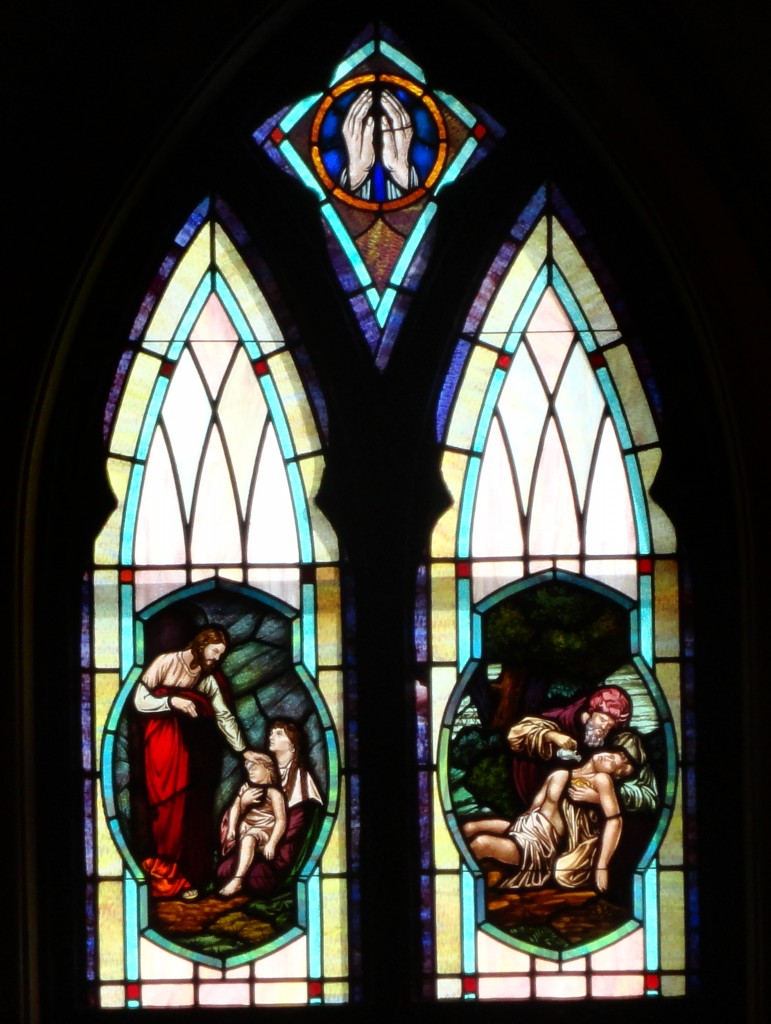 Top Center Window – Is Encouraged to Pray to God Daily
Left Window – Jesus Heals The Sick
Matthew 4:23 "And Jesus went about teaching and preaching healing all manner of sickness.'
Right Window – The Parable Of The Good Samaritan
Micah 6:8 "He hath showed Thee O man what is good; and what doth the Lord require of thee but to do justly and to love mercy and to walk humbly with Thy God."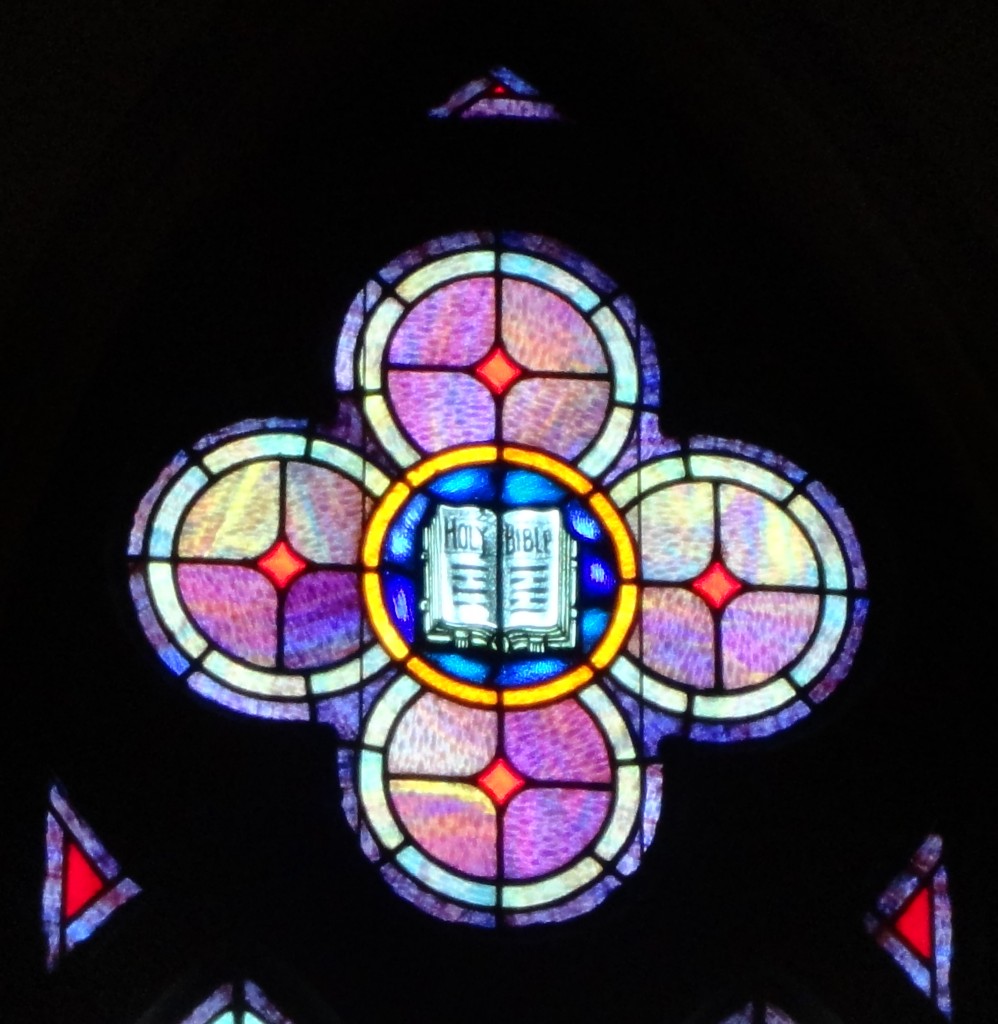 To Read the Bible Regularly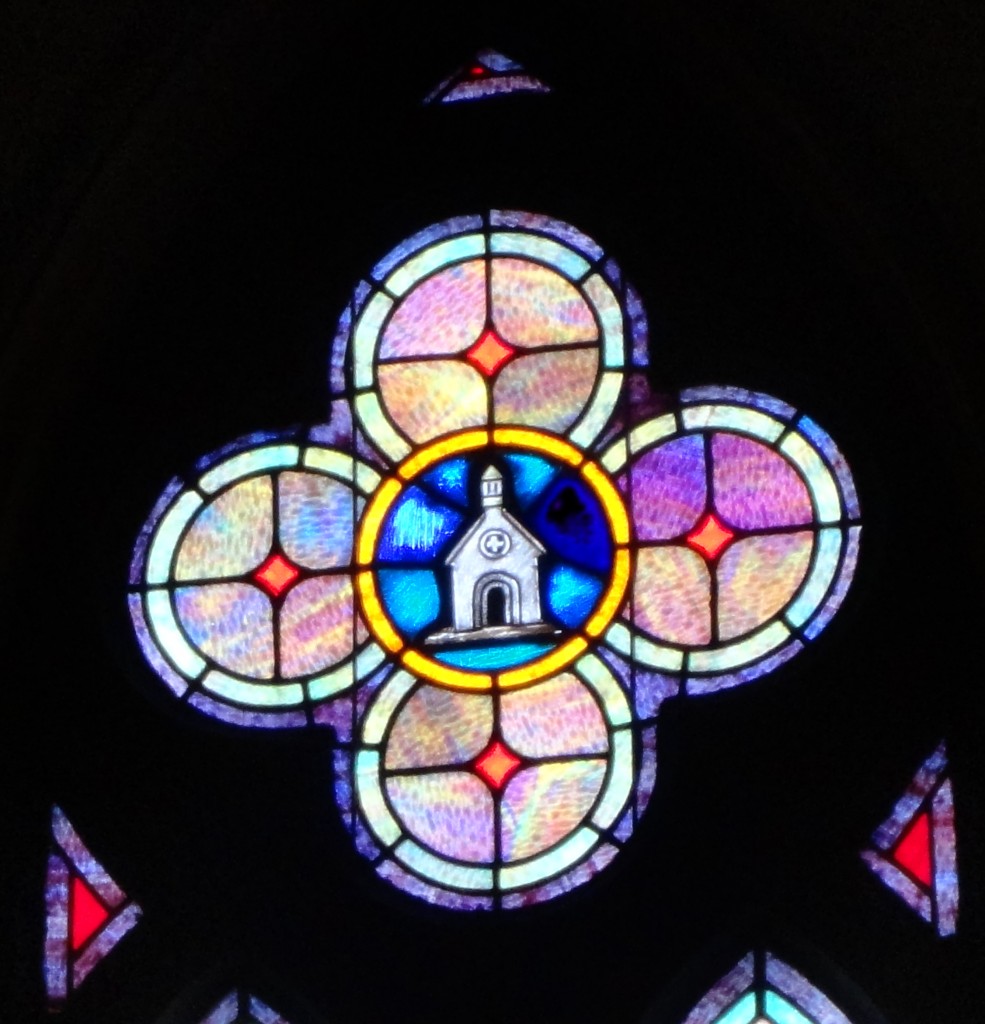 To Worship together with Others in The Services of the Church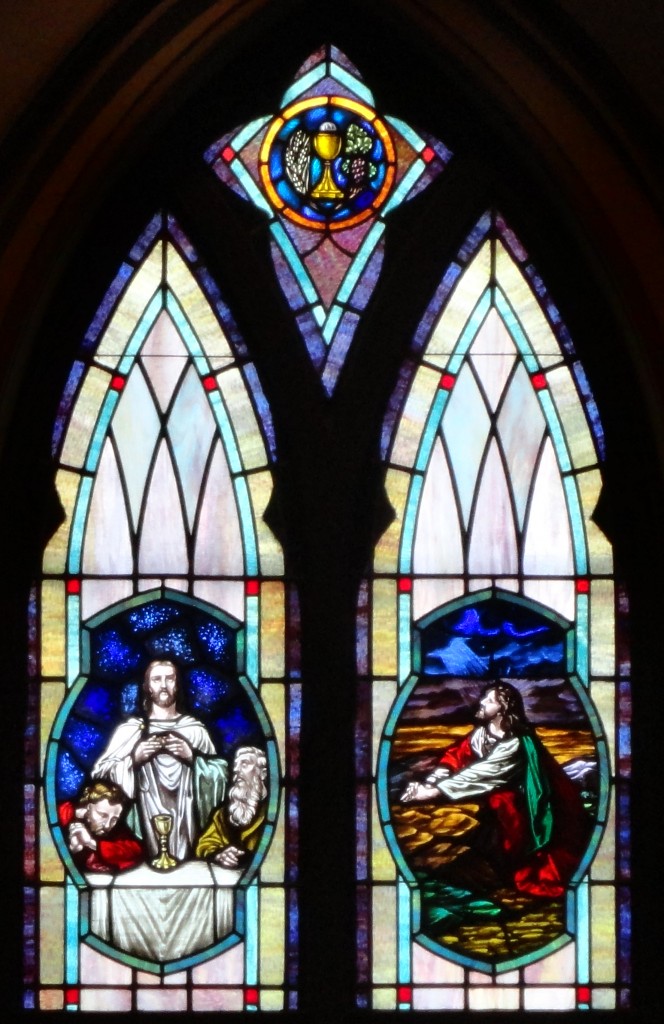 Top Center Window – Receives the High Privilege of Partaking of the Sacrament of Holy Communion
Left Window – The Lords Supper
Right Window – Jesus in the Garden
Luke 22:41 "And Jesus, when he had come to the Garden, kneeled down and prayed, Father if it is possible let this cup be removed from me, nevertheless not my will but thine be done."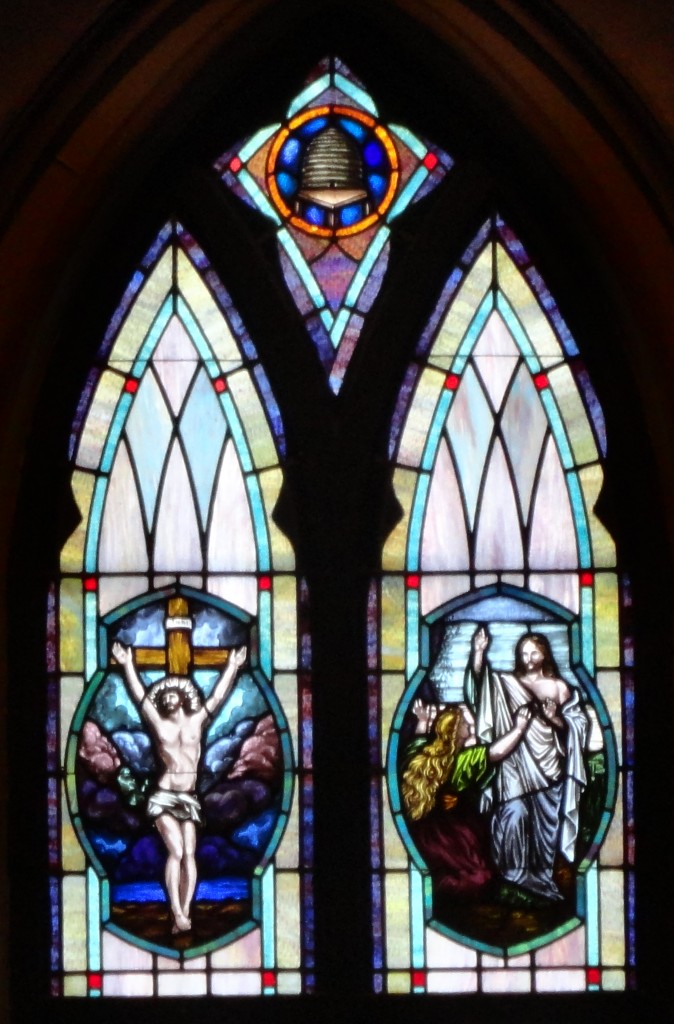 Top Center Window – Finds Joy in Working for God's Kingdom on Earth
Left Window – Jesus is Crucified
Isaiah 53:4-5 "Surely he hath born our griefs and carried our sorrows. He was wounded for our transgressions, he was bruised for our inequities."
Right Window – The Resurrection
1 Corinthians 15:20-21 "But now is Christ risen from the dead and become the first-fruits of them that slept, for since by man came death by man came also the resurrection of the dead."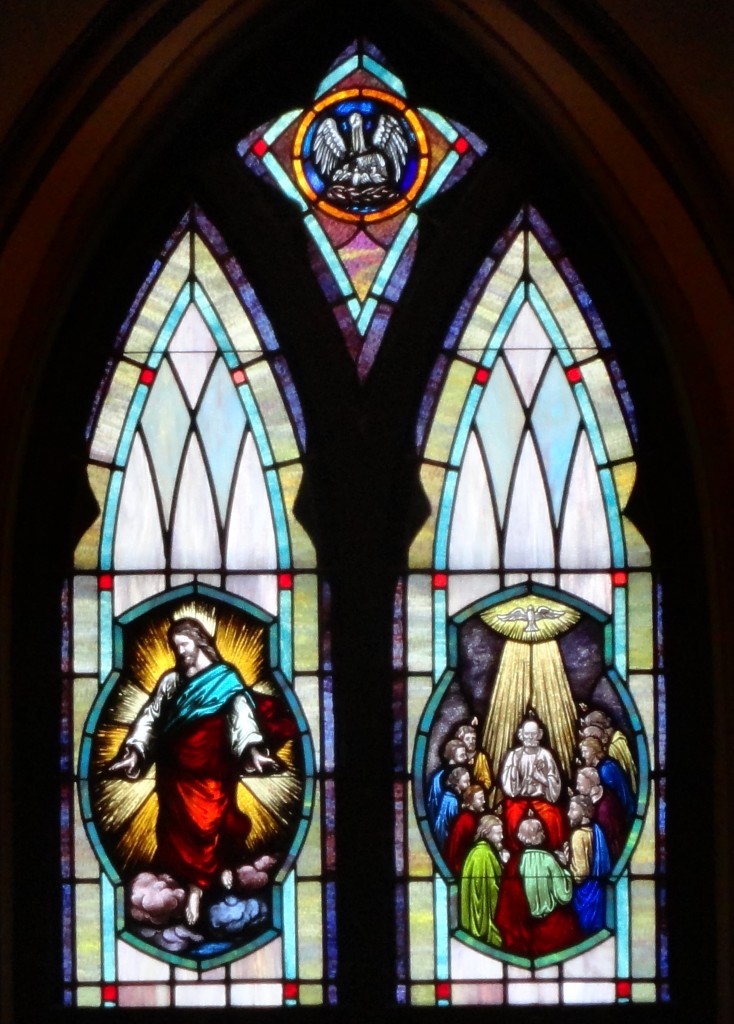 Top Center Window – And in Unselfish Service for Others
Left Window – The Ascension
The Words of Institution of Holy Baptism.
Mathew 28:18-20
Right Window – Pentecost
Acts 2:1-4 "And when the day of Pentecost was come they were all in one place and there appeared unto them cloven tongues like fire. And they were all filled with the Holy Spirit and began to speak with other tongues the wonderful works of God."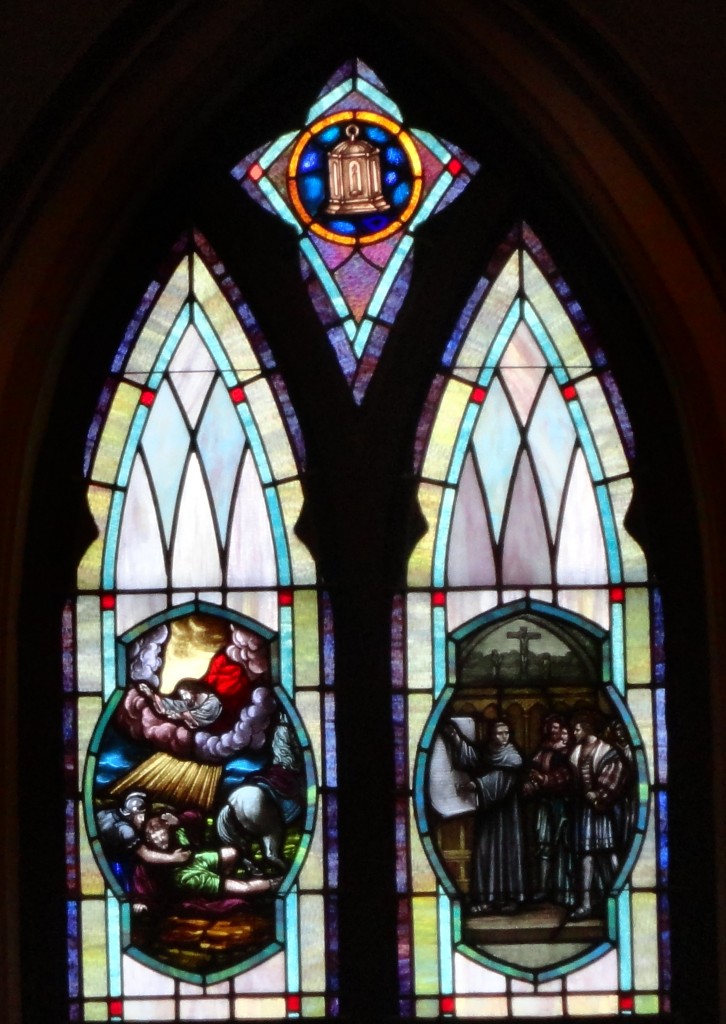 Top Center Window – In return, God will Give Light unto his Pathway
Left Window – The Conversion of St. Paul
Acts 9:3-4 "And as he came near Damascus, suddenly their shined round about him a great light from heaven. And he fell to the Earth.
Right Window – Luther and the 95 Theses
Romans 5:1 "Therefore being justified by faith, we have peace with God through our Lord Jesus Christ."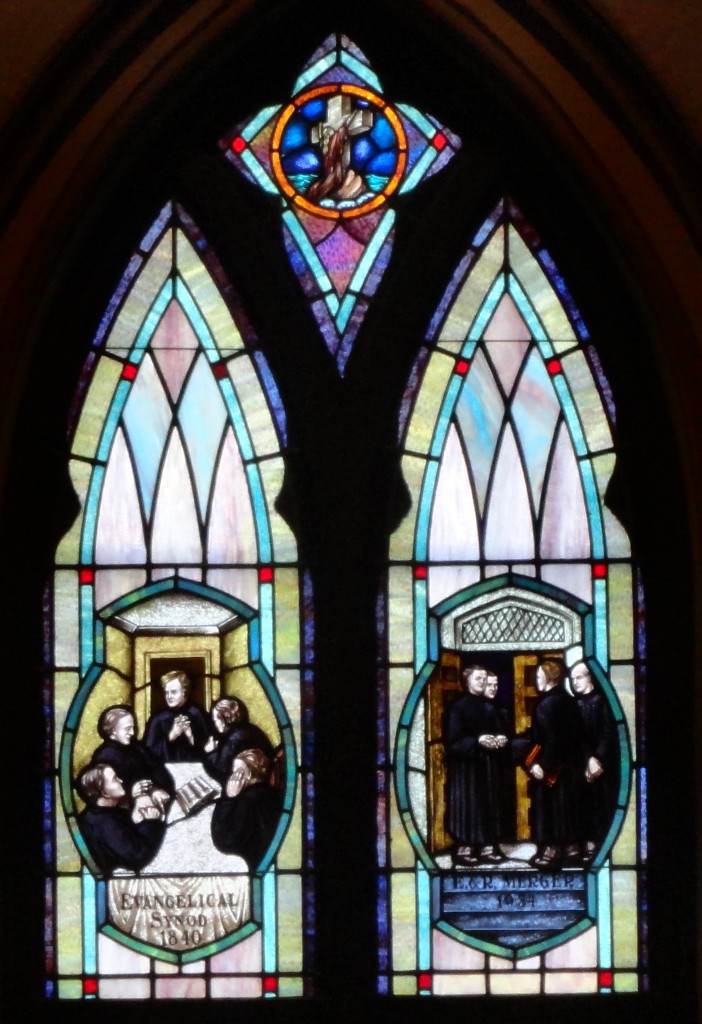 Top Center Window – Comfort in Time of Distress
Left Window – The Organization of the Evangelical Synod
Ephesians 4:3 "Endeavoring to keep the unity of the spirit in the bond of peace. We have one Lord, one Faith, one baptism, one God and Father of us all."
Right Window – The Evangelical and Reformed Merger
John 17:11 "Jesus lifted his eyes to Heaven and said, Holy Father keep through thine own name all those which shall believe on me. that they may all be one."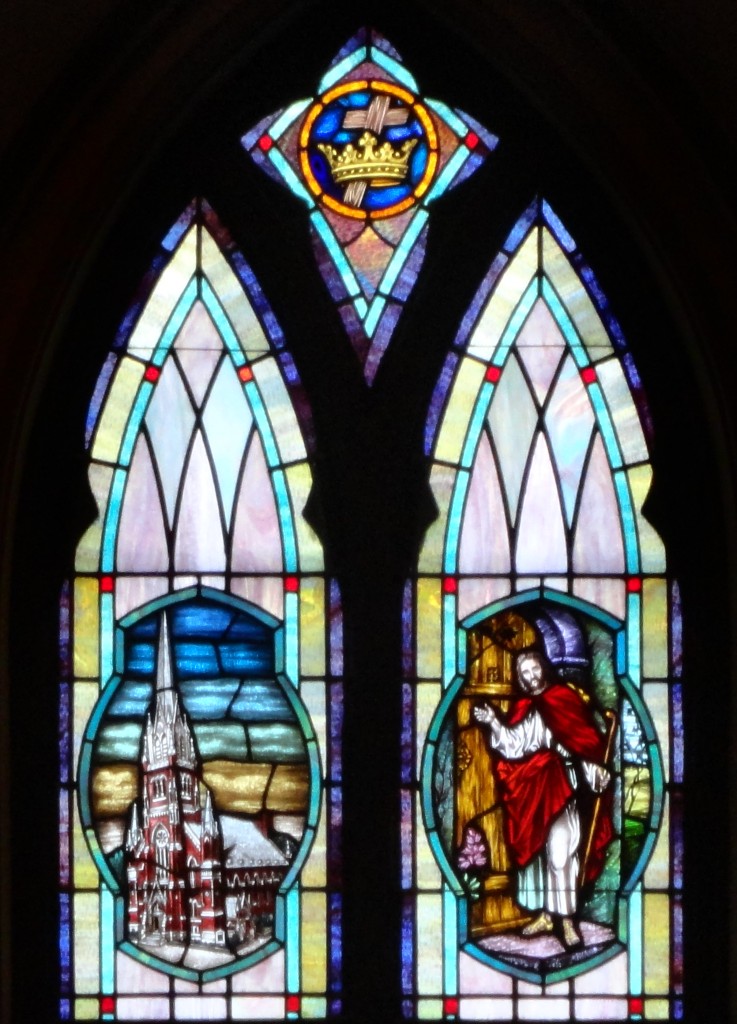 Top Center Window – And the Assurance of Life Ever Lasting through Jesus Christ our Lord
Left Window – Salem Evangelical United Church of Christ
Psalm 26:8 Lord I love the habitation of Thy house and the place where thine honor dwelleth."
Right Window – Jesus at the Door
Revelation 3:20 "Behold I stand at the door and knock. If any man hear my voice and open the door, I will come in to him and sup with him and he with me."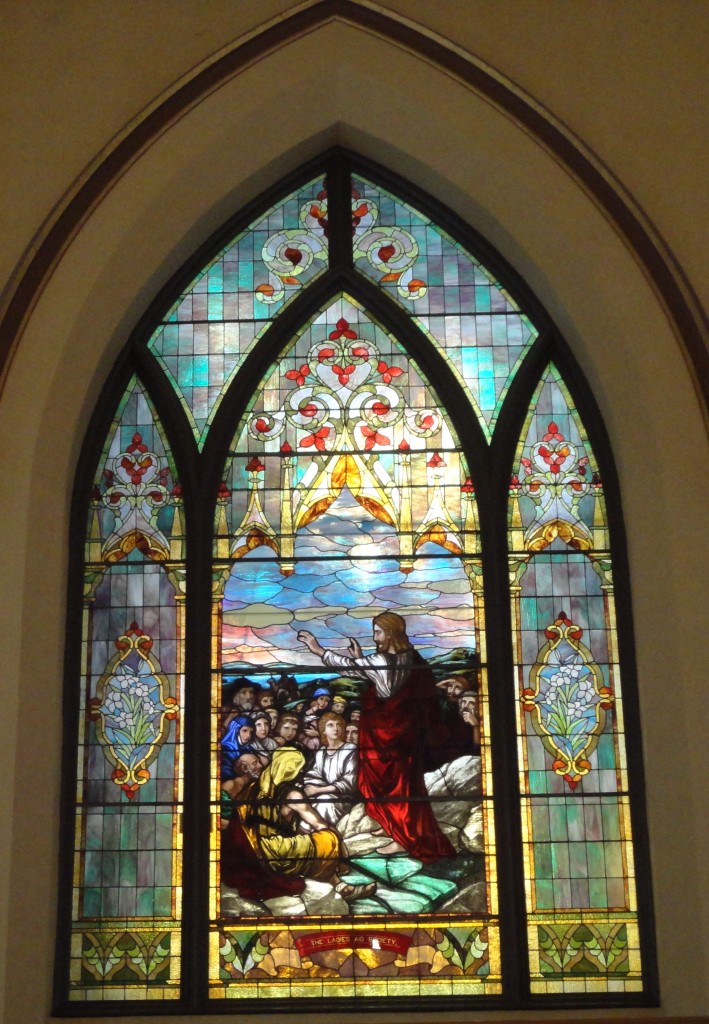 The Stained Glass Window in the Rear Balcony
More Photos at the Following Links